Progressive Doubles 2020
Dear Member,
Progressive Men's & Ladies Doubles will be starting 26th & 27th February.

The competition runs over 5 weeks and finishes on Wednesday 25th & Thursday 26th March.

ALL tennis members at every level are encouraged to enter.

This is a graded tournament.

How it works :

•Players are allocated into groups on week 1
•All matches consist of three short sets. First to 6 games with short deuce in operation.
•Each set is played with a different partner.
•Each player collates an individual score for the evening consisting of the total of the games won in each of the pairings over the three sets.
•Player with most points moves up to next group and player with least moves down the following week..


Based on majority of availability men's and ladies nights will be confirmed after the closing date.

Entries close: Friday 21st February at midnight.

To enter please click on below link and fill out form to register
2020 Sign Up Form

https://docs.google.com/forms/d/e/1FAIpQLSc6ouFTMYBm7HnPvyLvuq-Y7ewTjk7SU5bmFlQ-41IB5tkPFA/viewform
There is an entry fee of €10 as there will be prizes at the end of the competition.
Any queries please do not hesitate to contact us on tennisadmin@elmpark.ie
Aislinn Hampson
Social Tennis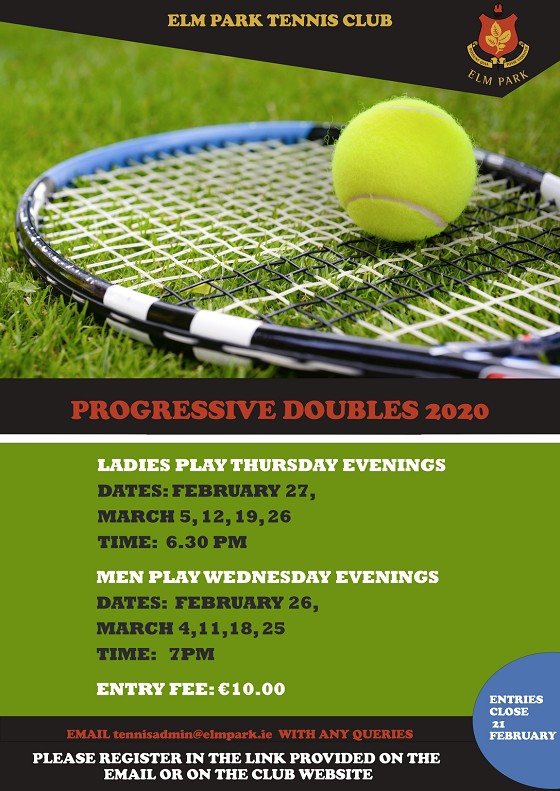 News & Events