Junior Grasscourt Championships 2019
Dear Parents / Guardians
The Junior Grasscourt Championships is now open for entry. The Championships
will start on Monday 21st August with finals on Friday 23rd August.
There are a number of events at various age levels consisting of Singles, Doubles and Mixed Doubles. The matches will be played at fixed times during the week and you must be available to play at the appointed times per the Official Championship Schedule.
This Championships will be an elimination main draw for age categories except for the U9s, where it will be a round robin event with a final on finals day. (subject to numbers)
Finals will take place on Friday 23rd August.
The draw with the schedule of matches will be available on Thursday 16th August 6pm in the Inner Hallway of the main club house. An email with the link to the TY software to view match schedule will also be sent to you.
Cost of Entry: €5 for one event, €12 for 2 events, €15 for 3 events.
Entry Forms and entry fee should be returned to the Tennis box in the inner hallway of the main club house area by the closing date of Thursday 8th August, 5pm. Any entries returned after this time will not be included in the draw
Entry Forms are attached on this email and also available in the inner hallway of the club house and caddy master area and on the Elm Park web- site.
Please email tennisadmin@elmpark.ie with any queries.
Junior Parent Tennis Committee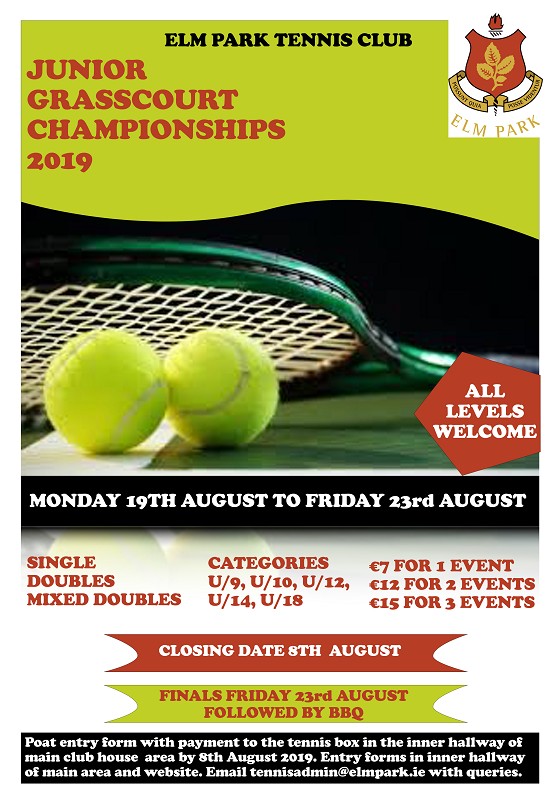 News & Events