Reminder Junior Handicap Hardcourt Championships 2019
Dear Parents
Reminder closing date for the Junior Handicap Hardcourt Championships is this Friday 5th April.
The Junior Handicap Hardcourt Championship, will be starting on Sunday 14th April with Finals on Thursday 18th April.
The Handicap Hardcourt Championships were such a success last year that we are going to continue this format for this year as it encourages more children to participate in this fantastic tournament.
We will have a non compulsory round robin on the first day of the tournament (subject to number of entries) . This means everyone will get to play at least two games
The Handicap Championships are a great way for players of all standards to compete against each other. So why not give it a go! Categories consist of Boys & Girls singles, doubles and mixed doubles over the various age groups. If you don't have a partner, we will endeavor as much as possible to allocate one to you.
So even if you have not been playing for a while, what better time to dust of your racquets and come join us for a great week of tennis.

Handicap Events
U9 Boys & Girls Singles (Juniors born in 2010 and later)
U10 Boys & Girls Singles (Juniors born in 2009)

U12 Boys & Girls Singles, Doubles & Mixed Doubles (Juniors born in 2008, 2007)

U14 Boys & Girls Singles, Doubles & Mixed Doubles (Juniors born in 2006, 2005)

U18 Boys & Girls Singles Doubles & Mixed Doubles (Juniors born in 2004, 2003, 2002, 2001)

The Junior Handicaps will work as follows:

For U10 to U18 events, each player will be given a Handicap based on box leagues, tournaments and observation from the coaching team. Handicaps will be set at -30, -15, Scratch (0-0), +15 and +30. For doubles and mixed doubles we will also base the Handicaps on the same criteria as the singles of each partner.

For example those ranked at the top may receive a -30 Handicap, which means they will have to win 2 points just to get back to 0 and have to win 6 points to win a game. Players ranked nearer the bottom may receive a +30 Handicap where they only have to win two points to win a game. The first player to reach 6 games will be the winner, if the game score is 5 games all, the player who wins the next game will win the match.

For U9 events, the scoring system will be tie-break points (1, 2, etc.) to make it easier to run. Handicaps will be based on overall levels of play, observed by the coaching team. Players with a higher playing level will start at 0 points and players with a lower playing level will start with plus points e.g. 3 points. The first player to reach 10 points will win the match.

Rob Cherry, Director of Tennis will be working closely with the Junior Committee on the rankings for the Junior for the Handicaps

Attached is the entry form for the Junior Handicap Hardcourt Championships , which are also available in the Inner Hallway of the main Club House. Please put entry form with payment in an envelope and put in the tennis box in the inner hallway of the main club house.

Best Wishes

Junior Parent Committee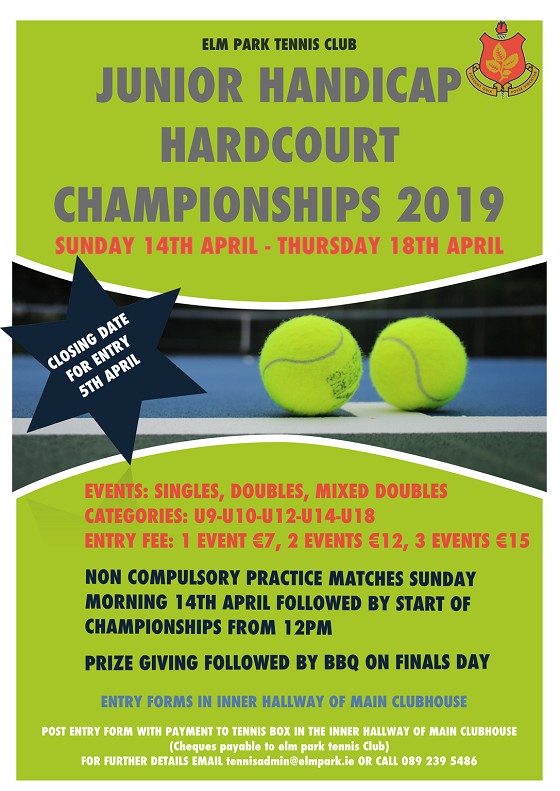 News & Events