Junior Coaching Term 3
Dear parents
The Junior Coaching Programme for Term 3 starts on Tuesday 19th March
As this term includes Easter, and both the May and June bank holiday's there are different lesson dates and payment terms for different days.
Term Weeks
Tuesday to Friday groups inclusive = 10 Week Term
Saturday Groups = 8 Week Term
Monday groups = 7 Week Term
Please note the Saturday coaching times change within the term due to the Summer League.
12- 2pm and 2 - 4pm stay as normal for the following dates: March 23rd, 30th, April 6th,13th,
They then change on the following dates, May 11th,18th,25th, June 8th from:
12pm - 2pm to 10am - 12pm
2 pm - 4pm to 12pm - 2pm
Payment is to be made on the first day of your child's lesson. We can accept part payment of 2 cheques per term. (1 cheque on registration week and a post dated cheque for 6 weeks later, 26th April.
We accept cash or cheques, preferably cheques made payable to Elm Park Tennis Club
Registration will take place in the Sports Bar from
Tuesday 19th March 3pm - 6pm
Thursday 21st March 3pm - 6pm
Saturday 23rd March 12pm - 2pm
If you cannot make registration please put the payment in the tennis box in the inner hallway of the main club house marked for my attention.
Junior coaching payment rates for Members and Non Members: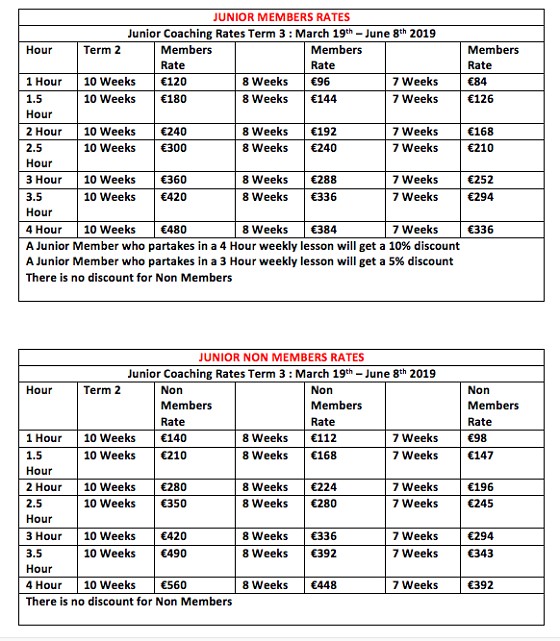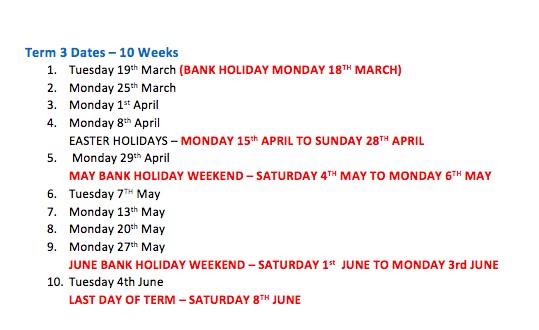 Many thanks
Emmanuelle Fitzsimons
Tennis Administrator
News & Events