Junior Coaching Term 2
Dear parents,
Term 1 junior group coaching will be finishing on Saturday 15th December. Coaching will resume on Monday 7th January 2019 and will run for 9 weeks to Saturday 16th March inclusive.
There will be a mid term break week of Monday 11th February to Sunday 17th February.
If your child/children will not be returning to the coaching please email tennisadmin@elmpark.ie by 21st December as there are a number of children awaiting places in some groups.
If your child/children are not currently in the junior coaching programme and you would like them to join the programme, please email tennisadmin@elmpark.ie.

Details of fees are as follows: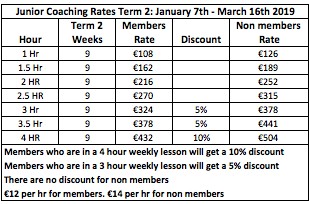 Payment can be made either by cash or cheque (preferably cheque) made payable to Elm Park Tennis Club on the first day of your child/children's tennis lesson. Due to construction work the collection of payments for the week has been moved to the sports bar and will take place each afternoon from 3pm to 6pm, Friday 5pm and Saturday 12-2pm.
We can accept part payment of 2 cheques per term. (1 cheque on the first week and a post dated cheque for 4 weeks later)
If you would like a report card to see how your child/children have progressed in Term 1 of the junior coaching programme, please email your child's coach below. If your child is with both Rob Cherry and Victoria Gaidau, please only email Rob.
You can see a sample report card that will be sent in the link below.
https://docs.google.com/spreadsheets/d/1GJIgGxDa3EERaggmUYMUdDJF8Ql-Q-pQ9I2VuCJu1Jo/
Rob Cherry: tennis@elmpark.ie
Victoria Gaidau: victoriag8905@outlook.com
The next report card will be at the end of term 3 in June 2019 for terms 2 and 3.

Wishing you and your families a Merry Christmas and a Happy New Year.

Many thanks
Emmanuelle Fitzsimons
Tennis Administrator
Mobile: 086 833 1452
Email: tennisadmin@elmpark.ie
News & Events