Captain's Day Reminder
Dear Member,
Tennis Captain Olwyn Ryan & Men's Tennis Captain John Purcell invite you to join them in their Captain's Day on Saturday 25th August.
There will be an American Tournament with a choice of two times for you to choose to play at
11.00am -1.00pm Or 2.00pm - 4.00pm. We will try and accommodate all requests as much as possible.
All members are welcome to join us for a glass of Prosecco between 1.00 & 2.00pm
The tournament is open to Junior Members aged 14 on or before 31st December 2017.
Please fill in the form below in the link to enter, payment can be made at registration or you can fill in the attached entry form and put into the tennis box with payment in the caddymaster area by Tuesday 21st August. Entry forms are also available in the caddymaster area or on the Elm Park web-site.
https://docs.google.com/forms/d/e/1FAIpQLScSUfTV3OQh00cMb7MF2JLYQRUR8OhAyz1q3DZH3cFy7dDH_w/viewform
Later that evening the Captain's dinner and entertainment will be preceded by a drinks reception at 7.30pm. The cost will be €35 per person and bookings can be made through the dining room. Please email catering@elmpark.ie to reserve your place
Best wishes
Olwyn & John
Tennis Captains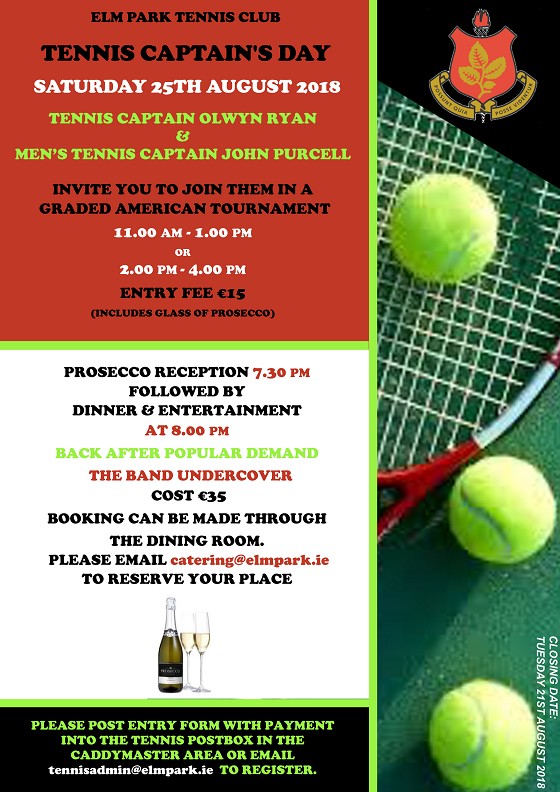 News & Events