Reminder Junior Grasscourt Championships 2018
Dear Parents / Guardians
Reminder that the Junior Grasscourt Championships closing date is Friday 3rd August. The Championships will start on Monday 20th August with finals on Friday 24th August.
If you are away and your child / children would like to enter please email tennisadmin@elmpark.ie with details of entry and payment can be made on your return.
There are a number of events at various age levels consisting of Singles, Doubles and Mixed Doubles. The matches will be played at fixed times during the week and you must be available to play at the appointed times per the Official Championship Schedule.
This year we will have round Robin Qualification with elimination main draw for the singles in all age categories except for the U9s, where it will be a round robin event with a final on finals day.
The round robins will be help Monday and Tuesday from 10am to 1pm along with the doubles and mixed doubles in the afternoons.
Depending on entries, the top two juniors with the most matches won from each round robin will go through to the Elimination main draw.
Wednesday 22nd August Quarter Finals
Thursday 23rd August Semi Finals
Friday 24th August Finals
The draw with the schedule of matches will be available on Thursday 16th August 6pm in the Junior Clubhouse. An email with the link to the TI software to view match schedule will also be sent to you.
Cost of Entry: €5 for one event, €12 for 2 events, €15 for 3 events.
Entry Forms and entry fee should be returned to the Tennis box at the Caddymaster's area by the closing date of Friday 3rd August, 5pm.
Entry Forms are attached on this email and also available from the Caddy Master, Junior Club House and on the Elm Park web- site.
Please email tennisadmin@elmpark.ie with any queries.
Junior Parent Tennis Committee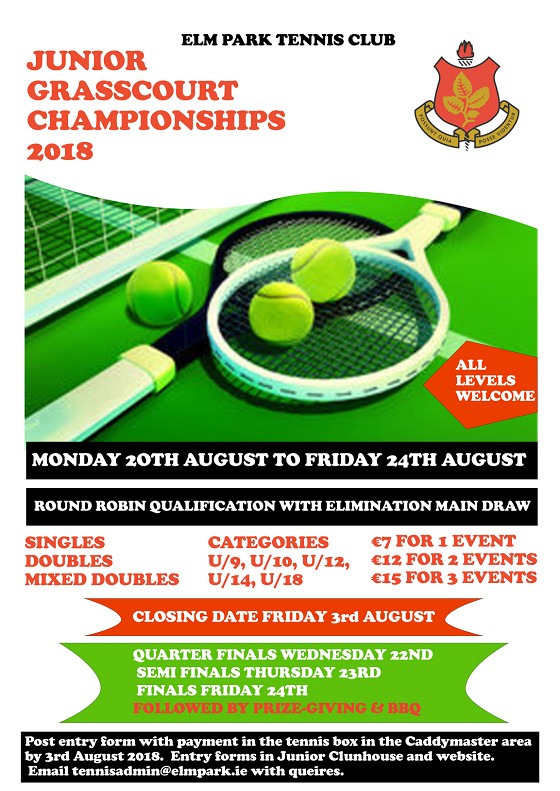 News & Events