Junior Coaching Programme September 2018
Dear Parents,
Please follow the link below for the Provisional Junior Group Coaching Programme for September 2018.
The groups are provisional and amendments can take place as we are aware that the timetable for school activities for some schools schools has not been released yet.
The number of hours your child is down for is displayed to the right of their name beside Class / Year.
IF YOU WOULD LIKE your child/children to do more hours please let me know.
Term 1 will take place for 13 weeks from Monday 10th September to Saturday 15th December 2018 with a Mid Term break from Monday 29th October to Sunday 4th November.
There will be 3 terms in total, over 32 weeks, finishing on Saturday 8th June 2019.
PLEASE CONFIRM by email to tennisadmin@elmpark.ie your intention to proceed with your child's participation in the programme.
IF YOUR CHILD/CHILDREN are not currently listed on the junior coaching spreadsheet and you would like them to join the group, please email tennisadmin@elmpark.ie.
Details of fees are as follows:
€12 per hour for a member
€14 per hour for a non member
We can accept part payment of 2 cheques per term. ( 1 cheque on registration week and a post dated cheque for 6 weeks later)
Link to provisional groups:
https://docs.google.com/spreadsheets/d/1M2Ve5WKe4qBdwzT2XXPSHH2wRDagfKv86R7jcEP0L5c/edit?usp=sharing
Many thanks,
Emmanuelle
Tennis Administrator
tennisadmin@elmpark.ie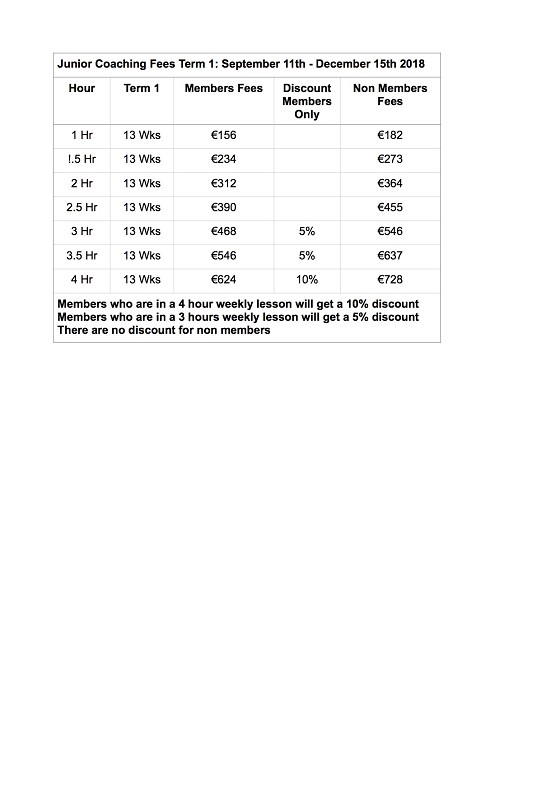 News & Events