Junior Tennis 10s Event

Dear Parent

Director of Tennis Rob Cherry will be running a Tennis 10s Event for children that are born in 2008 & 2009 on Saturday 16th June.

The event is open to members & non members
Orange Ball Event is from 10am to 11am for juniors born in 2009
Green Ball Event is from 11am to 12pm for juniors born in 2008

The entry fee: is €5 for a member and €7 for non members. Payment to be made on the day of the event.
The Tennis 10s event will be run as a doubles event. If there are 8 players or less, it will be a singles event.
*Places for each event are limited to the first 16 players who sign up

It would be great to see the children in this age group who are available to take part in this great event where they will learn to play the game better, exercise, compete and make new friends and have a great time.

Please register your child in the below link if they are born in 2008 & 2009 and are available to take part in the tennis 10s event.

https://docs.google.com/forms/d/e/1FAIpQLSfAs_UaAOgSmliVYEAGf3O4tuPRVpgc00KwVjycpBZF0TVoaw/viewform?usp=sf_link

A little info about tennis 10s
Tennis10s is tennis for players aged 10-and-under, played on smaller courts with slower Red, Orange and Green balls. It is a fun way to start tennis and makes it easy for children to play the game, develop good technique and tactics and a love for the sport.
Using the slower balls helps players to develop the most efficient technique and to be able to implement advanced tactics that in most cases could not be performed using the Yellow ball on the full court.
Tennis10s is part of the ITF's Tennis Play and Stay campaign. There are three stages of Tennis10s that allow players to start at the suitable level for their ability - Red (Stage 3), Orange (Stage 2) and Green (Stage 1).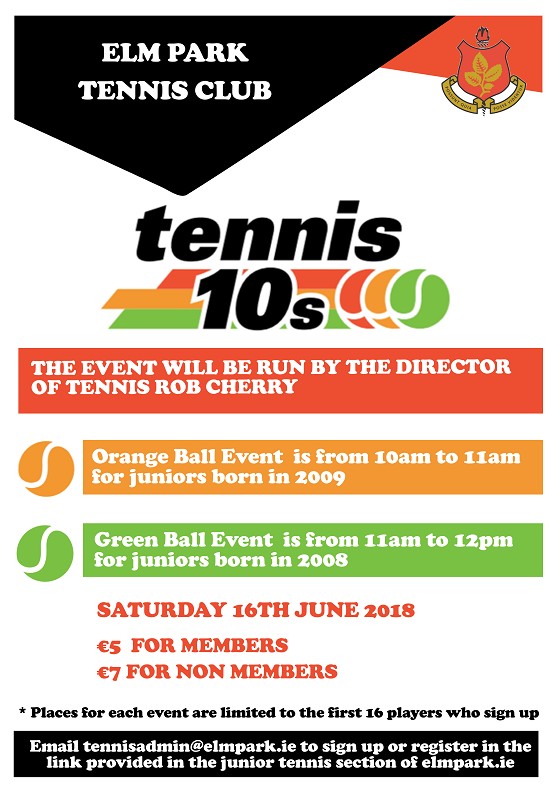 News & Events